Rowher Flat/ Bouquet Canyon, CA...January 24, 1999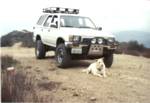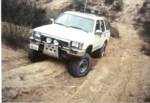 Left to right: The two biggest loves of my life, both in one picture; my 4Rnr struggling to climb a steep,
rutted hill just before Art casually idles-up...bl**dy SHOW-OFF!!!; Steve powering-up another steep hill.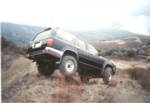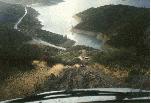 Steve auditioning his 4Rnr for the Cirque du Soleil (left) and decending a very steep, muddy
hill on to Bouquet Reservoir, taken from inside my 4Rnr (right).

Trail vehicles:
Steve Harron...1995 Toyota 4Runner SR5
Torsten Hoff...1995 Chevy Tahoe Sport
Art Welch...1998 Jeep TJ
Shawn Ooi...1991 Toyota 4Runner

Click your browser's BACK button to return to the previous page.