Shawn's 1991 Toyota 4Runner Photo Album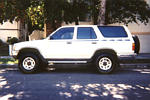 Stock 4Runner when I first bought it in August 1997.


Jon's 1993 Ford Bronco XLT...33" BFG M/Ts, RS9000s, 3" suspension & 3" body lift,
Ram Air and Gibson exhaust system.

| | |
| --- | --- |
| | Lars' Range Rover following me across a deep creek at San Gabriel Canyon, CA. You can just see my 4Runner at the bottom left corner of the picture. |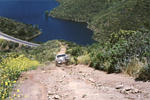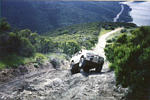 My 4Runner at Bouquet Canyon, CA.


6th Annual Toyota 4Runner Jamboree in the San Bernardino Mountains, CA (July 25-26, 1998).
6th Annual 4Runner Jamboree Trail Report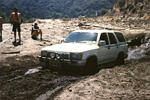 This is at San Gabriel Canyon. The picture on the left is an ATV trying to pull a stuck truck out!!!
The second picture is Torsten's 1995 Chevy Tahoe in some mud.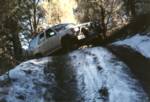 Taken on Dec. 12, 1998 at Miller Jeep Trail, CA. My tranny went out and I had to be towed up that one
hill (left) before turning around and heading home. There was just a scattering of snow
on the trails which made things a little more "interesting".

| | |
| --- | --- |
| | Luke Miller's 1985 4Runner at Santiago Canyon, CA...really nice off-road vehicle with heaps of custom modifications. |
INTERESTING LOOKING OFF-ROAD VEHICLES
 
COOL RIGS


| | |
| --- | --- |
| | 1970 Toyota LandCruiser FJ55 spotted at Miller's Jeep Trail. |
OTHER TRAIL PICTURES
Las Vegas, NV...August 14-16, 1998 (8 thumbnails)
Miller Jeep Trail, CA...November 1, 1998 (15 thumbnails)
Santiago Canyon, CA...November 24, 1998 (16 thumbnails)
Mojave Desert, CA...November 28, 1998 (2 pictures, 4 thumbnails)
Rowher Flat/ Bouquet Canyon, CA...January 24, 1999 (5 thumbnails)
San Gabriel Canyon, CA...February 28, 1999 (11 thumbnails)
Hollister Hills SVRA, CA...April 10, 1999 (6 thumbnails)
7th Annual Toyota 4Runner Jamboree at Gorman, CA...April 24, 1999 (8 thumbnails)
Badlands Corridor #109, CA...May 16 and June 5, 1999 (14 thumbnails)
"Little Red Rock", Las Vegas NV...May 30, 1999 (3 thumbnails)
Lower Yellowjacket Canyon, CA...February, 2000 (7 thumbnails)